Life is too short to wait for the right time!
That's why there's no better time than now to start earning passive income. What if we told you that you could make more money through your know-how in your domain and expertise?
Online course business is a thriving and great way to earn residual income. However, it sometimes sounds intimidating for beginners to get started with it. It doesn't even cross the minds of many professionals who think only tutors and teachers can have an online course. However, if you're good at what you do (no matter what it is), have something to say about it, and believe in yourself, you should immediately start sharing your know-how with the world and creating a passive income stream.
Don't be a perfectionist! Just start small and fast; you can even validate your macro course ideas along the way via micro-sales. That's the story behind Mini Course Generator! In this article, we'll explore 6 unique ways to use mini-courses for your passive income business.
Mini-courses are interactive and engaging micro-learning materials. They have a versatile nature, and a mini-course can achieve a lot! You can generate leads and collect emails, nurture your leads to promote bigger offers, assist your existing programs and eBooks with it, or sell educational content and get paid directly on your mini-courses. For jobs like these, you do not need to invest your time, energy, and money into fully functional (but cumbersome) learning management systems. LMS platforms like Teachable, Kajabi, Thinkific, or New Zenler are great for building a full-fledged macro course but are quite an overkill for basic benefits, as we've mentioned. These tools are not suitable for starting fast, publishing micro-learning fast, validating fast, and iterating fast. On the other hand, mini-courses are iterative, can be created and shared in minutes, and will better accompany your community's actual expectations.
Mini Course Generator, together with its AI Course Creator, is the go-to tool, especially for certified life coaches, licensed therapists, registered clinical mental health counselors, executive or agile training providers, accredited counselors, authors, community managers, HR executives, after-sales representatives, and so on. No modules, no student login, and no excessive features. Only what matters.
Clever ways to use mini-course links!
Let's share some practical strategies that require mini-course links alone to increase engagement, strengthen bonds with your community, and support your knowledge business through micro-learning materials.
1. If you're using an email marketing platform
Here is how to get better at email marketing with mini-courses. Adding links in automated sequential emails can increase learning engagement & learner motivation with daily micro-learning drips. After creating your mini-courses, place their links in your email automation and drip content.
You can benefit from a drip campaign supported by mini-courses in many ways, including lead nurturing, onboarding programs for new employees and new community members, a training program that takes place in a period of time, and so on.
Mini-courses will make a huge difference from static texts, as they can be enriched with lots of images and videos without increasing the mail size and also provide an interactive journey via quizzes and surveys.
This use case is especially practical to use before, during, and after a training (or workshop) program to motivate, reinforce knowledge and upsell new offers.
💡 Please keep in mind that mini-courses also work great to grow your mailing list! They are marvelous lead magnets. Here's how to generate more quality leads with mini-courses and collect REAL emails to promote your bigger offers practically.
2. If you're active on YouTube
Here's how to grow on YouTube with mini-courses. Mini-courses are great gamification tools, and gamification works wonders on YouTube! You can easily construct flows with mini-course links that will increase the watch hours of your YouTube channel, grow your audience, and also help you promote bigger offers more effectively.
One way to benefit from YouTube & mini-course synergy is by selling complementary materials in the form of mini-courses that will assist your video.
💡 Here's a potential flow;
✅ You can create a mini-course to recap what you'll cover in your video, which will also have a quiz.
✅ You can add a payment wall in this mini-course, either at the beginning or in the midst, by connecting with your own Stripe account. This will be an extra bite for people who'd like to pay a micro-payment (like $5-$10) and test their understanding of the subject. No one has to log in or create an additional account somewhere. They'll just pay and proceed!
✅ You can place the mini-course link in the description area of your video and direct people to this extra material inside your video.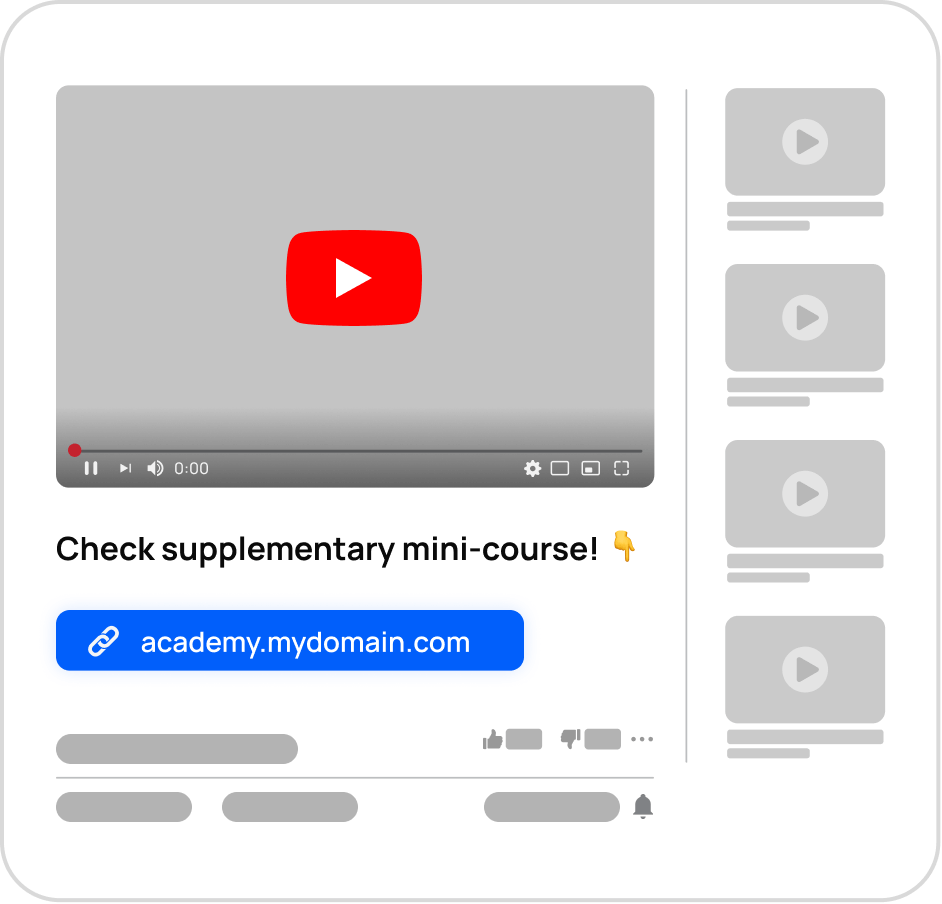 If you're interested in YouTube gamification with mini-courses, check here.
3. If you're active on LinkedIn
Here's how to grow on LinkedIn with mini-courses. LinkedIn is a great platform for solopreneurs to build a publicity and get found by new clients. An active and strong LinkedIn profile is crucial for showing your expertise and building your domain authority. That's why, LinkedIn is an important growth area especially for coaches, counselors, and training providers. So, how to be strong on LinkedIn and make the most of it?
The answer is not surprising, like in many social media platforms, LinkedIn also wants you to post beneficial content frequently and interact with your followers. There are many creative ways that mini-courses can get you higher engagement on LinkedIn.
💡 Here's a potential flow;
✅ You can create a mini-course about a subject that you're the expert of, and also create a shorter version of it (you can duplicate from the previous one!).
✅ Turn the smaller version into a PDF to share as LinkedIn carousel. Sharing in this format rather than giving links directly will boost the visibility of your post, as LinkedIn hates external links!
✅ Share this carousel post with a caption that says "Leave a comment to get the full, interactive version!" This way you'll encourage your audience to get in touch with you, and increase the performance of your post to be discovered by more people.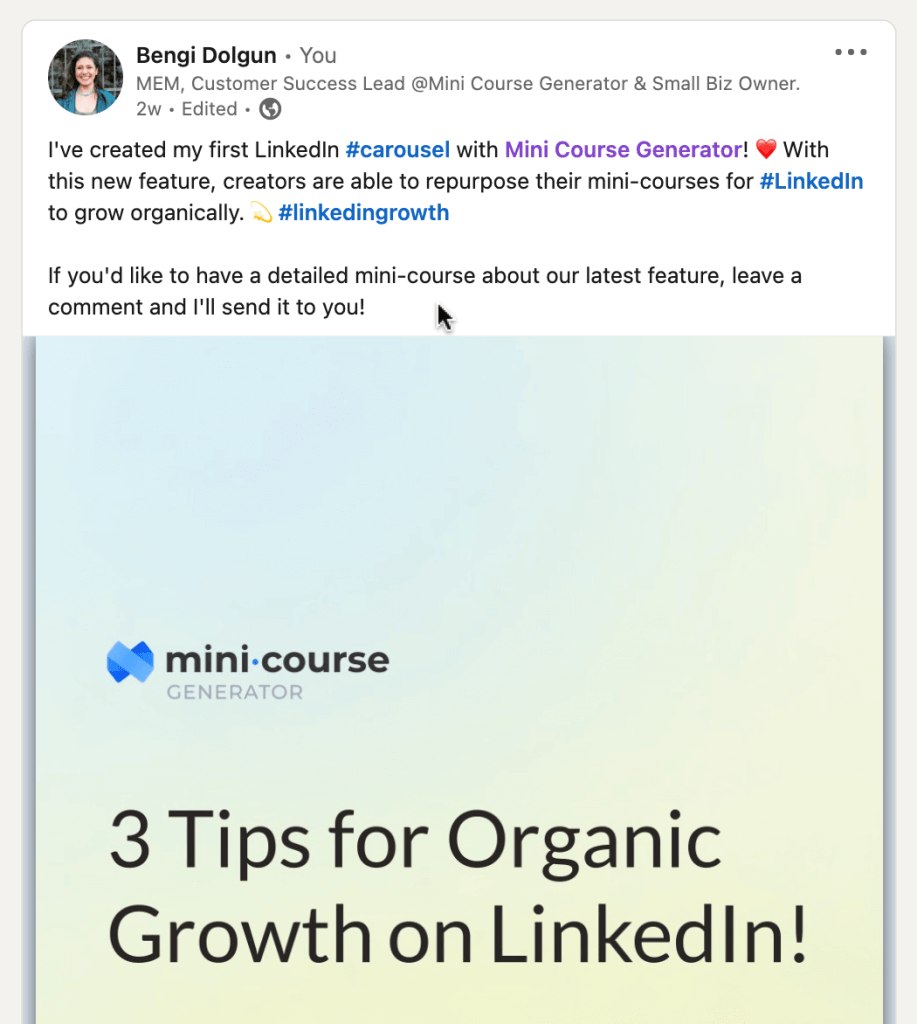 ✅ To those who left a comment, send the full version of the mini-course with a link through LinkedIn DMs.
Basic motivation behind this approach is to increase LinkedIn engagement and network by showing teasers in carousel format to promote bigger prizes as mini-courses. You can also start a direct conversation with your potential customers and build an organic relationship with your leads right at the beginning!
Besides, the whole process will take minutes, as creating content on MCG is super fast thanks to the AI-Assistant and the simple card structure. If you'd like to learn more about our LinkedIn carousels feature, watch the video below!
4. If you're selling ebooks on Kindle, Amazon, etc.
Here's how to support your ebook business with mini-courses. Writing ebooks is one of the most popular ways of earning a residual income through your know-how. So, how to sell more ebooks on Amazon and other well-known platforms? The key to successful ebook marketing is to organically build and maintain a relationship with your buyers.
If you are selling ebooks on Kindle, Amazon, or other platforms, you can promote or upsell your other books with the help of your mini-courses. You may ask how linking a mini-course will make a difference than directly linking the other book. The answer lies in the interactivity factor of mini-courses.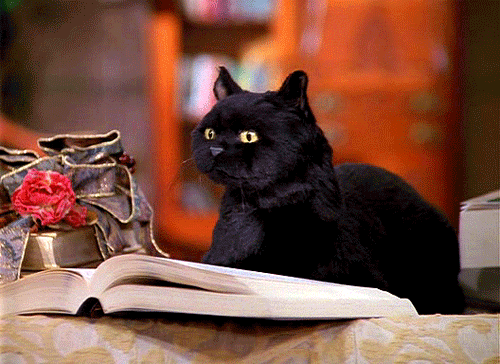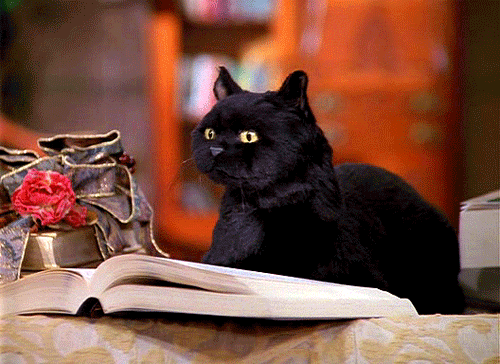 💡 Here are some mini-course ideas that can assist your ebooks!
✅ A mini-course about the ebook they've just bought; will contain the backstory, a recap of the whole material, and also a quiz at the end with a certification. While displaying scores and certificates, you can also link other books relevant to their knowledge level and also special discount bonuses!
✅ A mini-course that will act like a feedback survey for the book they've just bought. Finally, you can present the next offer with a thank you discount code.
✅ A mini-course about the next book that will act like a teaser and motivate the audience to buy.
Create mini-courses in minutes and link them in the "Additional Resources" area of one of your ebooks. You can even publish free ebooks for use as a lead magnet!
Another major advantage of using mini-courses is that it's easier to update your mini-courses rather than the ebook itself so that you can edit the complimentary material with recent examples and present a real-life, up-to-date experience to your audience with a one-time purchase.
5. If you have a community on Facebook, Discord, Slack, etc.
Here's how to manage your community with more engagement with mini-courses. If you are the owner of an exclusive group or community in a niche area; like a Discord or Slack server about the science of AI or a Facebook group about dog caring, you can use mini-courses to increase retention and engagement in your community.
People join such groups for learning from each other and developing themselves. As the admin of the group, you can make this environment more beneficial by sharing educational materials on a regular bases, like weekly, and turn this into an anticipated event among the group.
Sharing mini-course links will be amazing for this purpose, as you can share not only information but you can also enrich this material with visuals, videos, questions and surveys. You can even display special messages based on score, if you have more to promote.
💡 Here are two bright ideas that will come handy for you and your followers:
✅ Create a beginner-level mini-course and share its link publicly in the "About" section of your group. Don't forget to mention that materials like these come regularly for members!
✅ Collect the mini-course links you've shared so far in a post, and pin this to the group to serve as a open-to-access, free library for members.
6. If you have webinars
Here's how to have more effective sessions with mini-courses. You can turn your webinars, live sessions, and workshops into highly anticipated events with the help of mini-courses. Mini-courses work great as warm-up and recap materials!
You can send mini-course links to your attendees via an email drip campaign to create a buzz before the session. You can preview some of the content, ask questions that will arouse interest, and even ask survey-type questions to understand the need of your audience to tailor your webinar content accordingly. If you're interested in this idea, here are more ways to use mini-course warm-ups.
And after the event, you can continue emailing your attendees mini-courses that will serve as recap materials. You can mention key takeaways, a summary to recap, and quiz questions to reinforce knowledge. What's more, you can promote and upsell your next session at the end.
To illustrate, you'll see a recap mini-course template below, which is prepared by our editorial team based on the best real practices from the MCG community. You can always use our content templates for an easy start. Click here to see more of them. 
The ease of using AI Course Creator
As we've mentioned before, content creation on Mini Course Generator is super easy and fast, thanks to the AI Course Creator.
This feature is a unique solution that generates a complete, highly accurate, and comprehensive mini-course. If you have a mini-course idea, you have no reason to procrastinate! Once you describe your idea to our AI-Assistant and guide it with a few steps, you'll get your mini-course.
You can always edit it, enrich it with images, videos, and questions and make it uniquely yours.
You can watch our quick video below to see how it works.
All in all…
There are endless reasons to get into the knowledge business with your expertise and earn money with your know-how. Mini-courses are the easiest and fastest way to get into this new world, and in this article, we've covered some creative ways to use them effectively.
Especially for authors, certified life coaches, accredited counselors, training providers, community managers, licensed therapists, registered clinical mental health counselors, and so on, who are already used to creating content and/or sharing their know-how in some way, getting started today with Mini Course Generator is the best thing to do!